About Opie's Candy Store in Mt. Airy, NC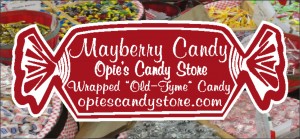 Opie's Candy Store is located on North Main Street in downtown Mount Airy, NC, the hometown of Andy Griffith and the inspiration for Mayberry on the classic sitcom, "The Andy Griffith Show."
Opie's specializes in "Olde-Tyme" goodies you knew as a kid like Chocolate Covered Raisins, Caramel Cremes, and Double Dip Peanuts. Young and old alike come into Opie's Candy Store from all over the country and other parts of the world for the friendly folks and down home sweet treats.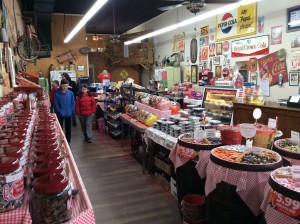 When you get a hankerin' for friendly folks, cold bottled pop out of an 1940s Coke cooler, and fresh delicious candy come to Opie's Candy Store.
Fill your sack, basket or bag with everything from Root Beer Barrels to Creme Drops to Jams and Jellies. We have over 500 candies to choose from. We also have the best hand dipped ice cream and delicious fudge. Whatever you choose, you'll be glad you visited Opie's Candy Store in Mount Airy, NC. So come to Opie's to rekindle an old memory or make a new one. We'll be waiting for you!
– Freddie & Cathy